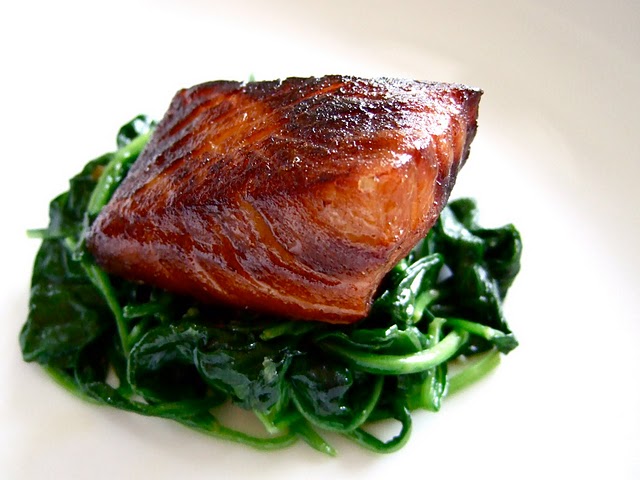 Ken and Jessica are getting married tomorrow.  Here at my house. And while I have about a million things I still need to check off my to do list I did want to share a recipe for the first course of tomorrow's dinner. Plus this allows me to procrastinate regarding a certain bathroom that needs to be cleaned…
I'm hoping to take a bunch of photos of the big event but the prep and cooking may get in the way and so I thought it would be wise to document at least one of the courses in their wedding dinner.
This recipe is from Hidekazu Tojo of Tojo's restaurant here in Vancouver. I love this recipe for a number of reasons:
1. It is really the most ridiculously easy recipe that has a total of 8 ingredients (not including salt and pepper).
2. It needs to be marinated overnight so you have to do the prep long before your guests arrive.
3. When I taught this at a cooking class one of the students (sweet Eddie) who didn't have a long cooking resumé blurted out after learning the technique and tasting the result, "I could really make this!" with true excitement in his voice.
4. I recipe tested this for the cookbook A Good Catch by Jill Lambert and unlike some of the other recipes this one was spot on and needed absolutely no revisions.
5. Sablefish (also known as Black Cod) is currently one of the most sustainable fish.
Tojo's Marinated Sablefish
Sablefish is quite rich and so this works well as a first course or as part of a tasting menu. Dark soy sauce is available at any Asian supermarket or specialty store. Also, just a note about removing bones from sablefish: it is virtually impossible to do this before you cook the fish. Roast the fish and then remove the bones using a pair of fish tweezers before serving.

1/3 cup dark soy sauce
1/4 cup mirin or sake or wine
1 tablespoon granulated sugar
2 teaspoons ground ginger
4 skinless sablefish fillets about 3 ounces each
1 teaspoon olive oil
1 teaspoon butter
1 bunch of  spinach
1 teaspoon of minced garlic
In a medium bowl whisk together the soy sauce, mirin (or sake or wine), granulated sugar and ground ginger. Pour the marinade into a zip lock bag and add the 4 skinless sablefish fillets. Press out any air and seal the bag. Place in the fridge for up to 48 hours.
Preheat oven to 450 degrees. Remove the sablefish from the marinade and pat dry. Discard marinade. Place fish on a parchment lined baking sheet and bake for 15 minutes until fish is cooked through and flakes easily. Any bones should be removed once the fish is cooked and before serving.
While fish is cooking, heat olive oil and butter in a large frying pan over medium-high heat. Add spinach and garlic and sauté until greens are wilted. Season with salt and freshly ground pepper.
Divide spinach between four plates warmed plates and top with sablefish fillets. Serve immediately.
Serves 4 as a first course.
Printable Recipe
Recipe by Hidekazu Tojo as printed in A Good Catch by Jill Lambert.